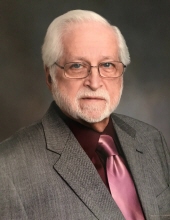 Obituary for Jack Edwin Reno
Jackie Edwin Reno, loving husband, father, grandfather and great-grandfather, age 82, of New Castle, passed away January 6, 2021 in the home of his daughter, following several months of illness. He was born December 14, 1938 in New Castle and was a son of Luther O. and O. Fern (Wilson) Reno.

Jack lived his entire life in New Castle, Indiana, with the exception of his time in the Army at Fort Sill, Oklahoma. In his early years, Jack graduated from New Castle High School with the class of 1957, where he played football. He worked for the Box Factory during his time in high school and for a while after graduation. He was proud to serve the United States Army as Sp4 E4 and the Army National Guard. After returning from the military, he worked for Marhover Meat and then the Chrysler Corporation. Jack retired from Chrysler after 40 years of service.

Along with working for many years of his life at Chrysler, he was very active in the New Castle community. He was a member of First Friends Meeting for over 50 years where he served as trustee for several years. He also was a member of the Local UAW 371 where he served as Secretary then as Secretary-Treasurer. He served as Treasurer of the Henry County Democrat Club for several years. He served as Precinct Committeeman for several years. He was the Treasurer of the Henry County Democrat Party Executive Committee. He served as Treasurer of the Democratic Central Committee from 1974 to 2003. He was a member at the American Legion Post 137 for over 50 years. Jack was Henry Township Trustee for 12 years and served as State President and State Vice President for the Township Trustee's Association. He was the proud recipient of Trustee of the Year in 1986, presented by the Indiana Township Association Inc. He spent 10 years on the CAP Board and was also a member of the Eastern Indiana Federal Credit Union Board, where he served as Treasurer for over 20 years. Jack was Commissioned a Kentucky Colonel in 1985. He was a life member of the B.P.O.E. Elks Lodge 484. He was a fifty year+ veteran of the Knights of Pythias Crescens Lodge #33 and a forever member of the Loyal Order of Moose Lodge 147 and Fraternal Order of Eagles 933. He was the proud recipient "Person of the Year" by the New Castle-Henry County Chamber of Commerce.

He enjoyed spending time with his family most of all. Being a proud American, Jack loved to travel the United States, having visited every state but Alaska. He always made it a point that his children knew the next adventure of beauty was here in the USA. During the Bi-Centennial celebration in 1976, he took a month off work in July to take his family on a camping adventure of a lifetime. They visited every National Park West of the Mississippi. Many of his adventures in his later years were with his wife Cathy riding on the back of his motorcycle. Some of their motorcycle travels included visiting every Indiana State Park. He always made it a point to attend every sporting event, choir, and band performance that his children and grandchildren were in, even if that meant going without sleep. He especially loved spending time with his family.

Left to cherish his loving memory include: his wife of 59 years, Catherine (Meece) Reno of New Castle; daughter, Robin (Michael) Fleming and daughter Jacquelyn (Jim) Reno-Kriech both of New Castle; son, Jackie (Donna) Reno II of Central City, KY; grandsons, Seth (Brittany) Fleming, of Indianapolis, Spencer (Samm) Fleming of Greenfield; granddaughters, Sydney (Tyler) Dungey of New Castle, Danielle Reno of Central City, KY., Ali Reno of New Castle; great-grandson, Rainier Dungey of New Castle; a sister, Norma Jean Reuter of New Castle; sister-in-law, Mary Reno of Winchester; as well as several nieces, nephews, and cousins.

He was preceded in death by his parents; an infant sister, Linda Lou; a brother, Raymon Reno; "sister," Geneva Vincent, brother-in-law's Ralph Strough, Michael Reuter and Rubin Meece, sister-in-law's Joyce Popplewell and Lois Dutton; nephew, Larry Reuter; a great-niece, Heather Padilla.

Friends may call Saturday, January 16, 2021 from 2:00 p.m. until 5:00 p.m., at the First Friends Church, 503 N. Main St., New Castle with memorial services immediately following. Handicap accessibility is available at rear of the church parking lot. Services will be conducted by the Elks Lodge and Military Honors will be conducted by the Army VFW and American Legion. In lieu of flowers, the family requests that contributions be made to Saint Jude Children's Research Hospital at stjude.org,, Wounded Warrior Project at support.woundedwarriorproject.org or the First Friends Church of New Castle directly at 503 So. Main Street, New Castle, IN. 47362. Funeral directors and staff of Macer-Hall-Marcum & Moffitt Funeral Home, 2011 East Broad Street are honored to serve the Jack Reno family. On-line condolences may be directed at www.macerhall.com. Due to COVID-19 and governors state mandate, face coverings are required at all times. Funeral Services will be live streamed on the funeral home facebook page.


Previous Events
Visitation
First Friends Church
503 No. Main Street
New Castle, Indiana 47362
Service
First Friends Church
503 No. Main Street
New Castle, Indiana 47362