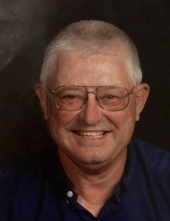 Obituary for Michael Duane Ellson
Michael Duane Ellson passed away on September 15, 2020. He was born on July 22, 1943 to Janice Jean Jester in New Castle, Indiana. Mike lived in Mooreland during his early years of life, eventually moving to New Castle, Indiana where he began attending Hernly Elementary School.

In his early years, Mike loved playing football, basketball, and baseball with his friends wherever they could find a place to play and also played on organized teams in his community. He enjoyed collecting baseball cards, being a paper boy, shoveling snow, mowing lawns near his home on 19thstreet, and he also loved doing things for neighbors in need. One of his favorite things to do was to spend time with his Grandparents (Ott & Pauline Jester) on State Road 36 in Mooreland, Indiana. Mike would often stay for at least a week on the farm with Grampy Ott and Gran, and he did this on multiple occasions every summer. He often said that spending time on the farm was one of the greatest memories of his childhood.

Baseball was his favorite sport, and he played in the New Castle Little League, Babe Ruth League, and for the New Castle Trojans. Legendary Coach Denny Bolden (The Babe Ruth Field is named after Coach Bolden) was Mike's coach, and he reflected quite often about the fond memories of the impact Coach Bolden had on his life. Throughout his life Mike often spoke about his baseball playing days, especially about his teammates and coaches. Simply put, Mike Ellson loved baseball!

Mike played infield on the first ever North Central Conference Championship Baseball Team for New Castle, and you can find the team picture in the field house on the school's Hall of Fame wall. The championship occurred 60 years ago, but Mike would speak about it in recent years like it was yesterday. He loved playing for New Castle and was a lifelong fan of every sports team that represented the green and white. Mike also played football for a couple of years of high school, but his fondest memories were of playing pick-up basketball at Baker Park with his friends.

At the end of his high school career, he met a special young lady named Shirley Downey, and after dating for a little while, they married on June 7, 1963 at First Christian Church in New Castle, Indiana. One of Mike's greatest attributes was loyalty, and this was demonstrated by his lifelong commitment to his wife, children, grandchildren, and great grandchildren. Mike and Shirley were married for 57 years, and both have served as anchors in the community of New Castle, Indiana. Mike loved Shirley unconditionally, and they enjoyed doing things together and sharing mutual friends. They attended First Bible Free Will Baptist Church and became believers of Christ in 1977. They had 4 boys and each one of them became a believer after watching their parents come to know Christ as their Lord and savior. This is an eternal gift from Mike and Shirley, and their legacy will live on in future generations of the Ellson family. For many years Mike taught Sunday School, served as a Deacon, and enjoyed greeting church members as an Usher. His favorite thing to do for the church was drive the bus and/or van, picking up the elderly and others who did not have a way to get to church. He loved bringing people to church, and his kind heart was on full display as he walked people to and from the bus/van.

Mike loved playing basketball on the legendary courts of Baker Park for many years with his family and friends. After a long day of work in the construction business (He worked for his father William Ellson for 52 years, for a company William founded named Ellson Excavating), Mike enjoyed competing in games of 3 on 3 or 4 on 4. There were multiple teams trying to get in the games, and if your team won you were allowed to keep playing. Needless to say, Mike was very competitive, and his teams often stayed on the court for many games. Mike often defended the best player and loved the challenge of keeping great players like Kent Benson from trying to score. He was famous for a play he called "the backboard play", and his opponents could not stop him from scoring because of its element of surprise. He loved playing ball with his boys, and they could often be found playing as a team against local competition. It was truly one of his greatest joys and served as a connection between father and sons!

Mike enjoyed taking Shirley to dinner in the evenings, and they most enjoyed going with other couples from the church. They especially enjoyed going out to dinner (or just simply spending time together) with two anchors of First Bible, Don and Mary Neal. Both couples had children attend Free Will Baptist Bible College, and they had mutual respect and love for one another. Their relationship helped provide stability for the church, and their examples inspired other community members to love Jesus!

During Mike's final years of life, you could find him at Stonebrooke leading Bible Studies to help others know Jesus, developing a Hymnal book for community members, encouraging fellow residents and nurses alike, attending every special event available to the residents, served as president on the residents council, and truly made the best of a tough situation by being the eternal optimist. Simply stated, his positive mindset is leaving a legacy on every life he touched.

Mike enjoyed reading good books (he loved reading about Coach John and Nell Wooden), especially the Bible (notes can be found throughout his Bible) and some of his favorite verses included:
• John 14:1-6
• Ecclesiastes 3:1-8
• 2 Corinthians 4:18
• Proverbs 3:5-6
• Jeremiah 29:11

Mike was preceded in death by his son Mark (Kelly), and his father William (Janice). He is survived by his wife Shirley of 57 years, sons Mike Jr. (Mary), Monte (Michelle), and Shane. Mike's enduring legacy will live on in the lives of his grandchildren Michael, Marshall (Elizabeth), Molly, Dustin, Sierra, Ashleigh, Kenton, Haleigh, Destinee, Jake, Joe, Olivia, and his great grandchildren Colt, Lana, Kylo, Joshua (who shared the same birthday as his great-grandfather), and Liam. Mike is also survived by his precious mother Janice, his brother William Ellson, and his 4 sisters, Jan Piercy, Cheryl Land (Rick), Janice (Jerry) Yanos, Michelle (Victor) Goudy, cousins, and several nieces and nephews.

Mike's legacy service will be held at 12:00 p.m., Saturday, September 19, 2020 at First Bible Free Will Baptist Church, 2302 Spring Street, New Castle, with Reverend Dustin Walters officiating. Friends may call beginning at 10:00 a.m., until service time. Mike's son's, and Macer-Hall, Marcum, & Moffitt Funeral Home will be conducting the service. A family graveside ceremony will occur at a later date. On-line condolences may be made at www.macerhall.com. The funeral directors and staff of Macer-Hall-Marcum & Moffitt are honored to serve the Michael Duane Ellson family.


Previous Events
Visitation
First Free Will Baptist Church
2302 Spring Street
New Castle, Indiana 47362
Service
First Free Will Baptist Church
2302 Spring Street
New Castle, Indiana 47362